*Non-credit bearing
*Contact hours: 127.5 hours per semester
Four levels of courses are prepared according to students' Japanese proficiency, and attentive instruction is provided in small classes.
Class meets five times a week for 15 weeks per semester. At the start of each semester, students take a placement test to determine their Japanese proficiency level and are placed into the appropriate level. There are 1-6 people in each class. These small class sizes allow each student to engage in close dialogue with the teacher. Teachers closely monitor the language development of each student and provide instruction appropriate to their needs.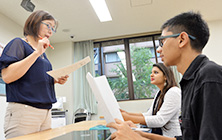 Beginner
This is a class for beginners who are learning Japanese for the first time. It focuses on improving speaking and listening abilities to enable them to engage in daily conversation.
Elementary
This class is suitable for students who have studied Japanese to a certain degree at academic institutions in their home countries. The curriculum will be drawn up based on teaching materials that students have been using in their home institution.
Intermediate
With a focus on reading and writing, this class is for students wishing to achieve a higher level of communication ability. Students will acquire the language ability to express opinions and engage in discussions.
Advanced
This class is designed to improve your overall language ability through all four skills: speaking, listening, reading and writing. The goal is to acquire sufficient language ability to pass the higher levels of the Japanese Language Proficiency Test.