Location & Access
Location -In the heart of Kansai-
Ibaraki-city has excellent access to the ancient city of KYOTO and the business metropolis of OSAKA.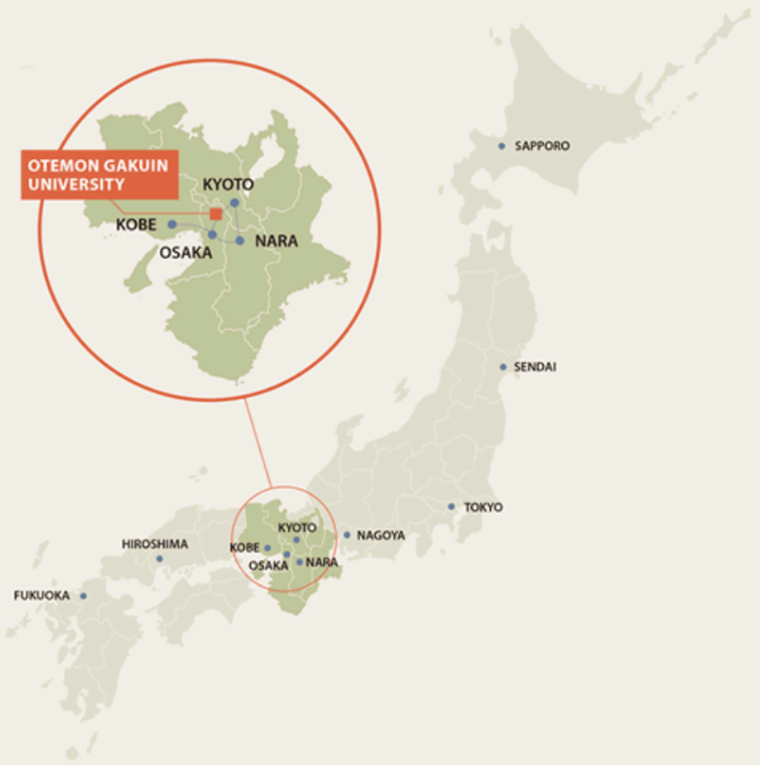 The two campuses of OIDAI lie in the suburb of Ibaraki City, Osaka. The city of Ibaraki, with a population of around 283,200 (as of 2020), is located between Japan's third largest business metropolis of Osaka and the ancient capital of Kyoto. It is located near to the Expo'70 Commemorative Park. It was built on the site of the Japan World Exposition 1970. This huge park with many different kinds of gardens, such as traditional Japanese botanical gardens and Zen gardens, as well as museums such as the National Museum of Ethnology.
The Kansai region has three distinct cities, each with its own unique features. Osaka, Western Japan's largest city, is a center of the Japanese economy, along with Tokyo. Ancient Japanese Buddhist temples and Shinto shrines can still be found in great numbers in Kyoto. There are many important cultural assets in both cities, and it is highly recommended you visit both to deepen your understanding of Japan's history and ancient culture. The port city of Kobe has had thriving international exchanges for over one hundred years and you can see many old buildings influenced by Western culture.
OIDAI is blessed with a rich natural environment, abundant in lush greenery particularly in vicinity of our campus.
Our Campuses
OIDAI has two campuses in Ibaraki city.
Ibaraki Sojiji Campus
In the academic year of 2019, OIDAI renewed its commitment to first class education, with the opening of brand new campus. Positioned as a hub for international education, the new campus engages local and international students in a wide range of academic and cultural initiatives.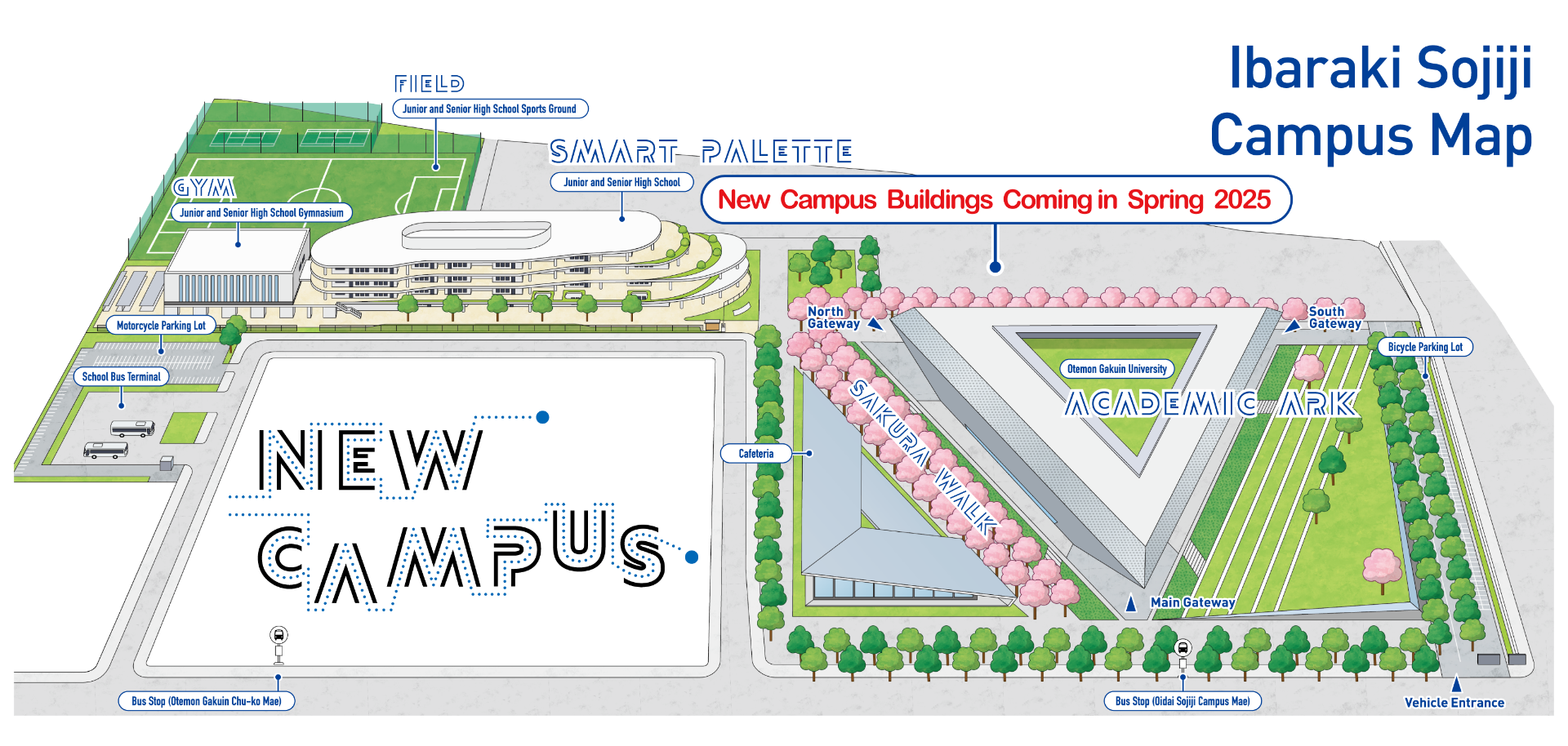 Ibaraki Ai Campus
Established in 1966. It is well-equipped facilities enables students a variety of learning.
Directions to the Campus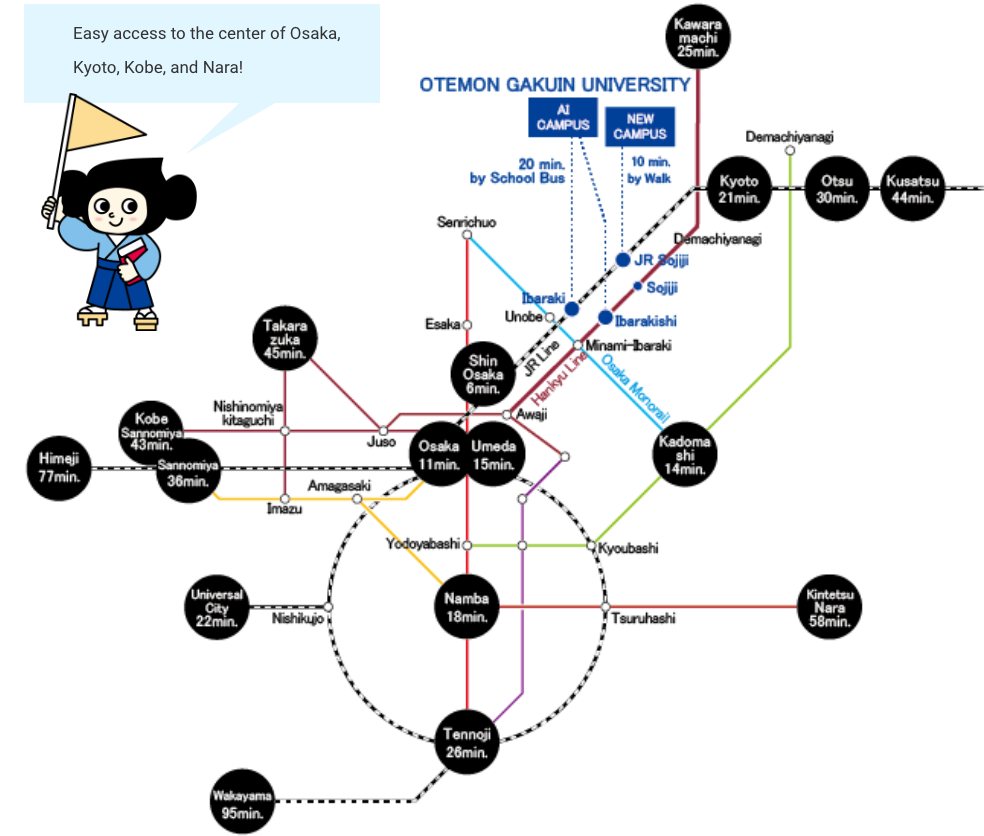 To Sojiji campus
Your classes are mainly conducted at Sojiji campus. The closest train stations to the campus are JR Sojiji Station and Hankyu Sojiji Station.
From Osaka
JR (Kyoto Line)
Hankyu (Kyoto Line)

From Kyoto
JR (Kyoto Line)

Hankyu (Kyoto Line)

Shuttle Bus
Campus Shuttle Bus Service is a free shuttle bus service that runs between the two campuses. Students can use these buses for attending classes and participating in extracurricular activities on other campuses.