Greetings from the President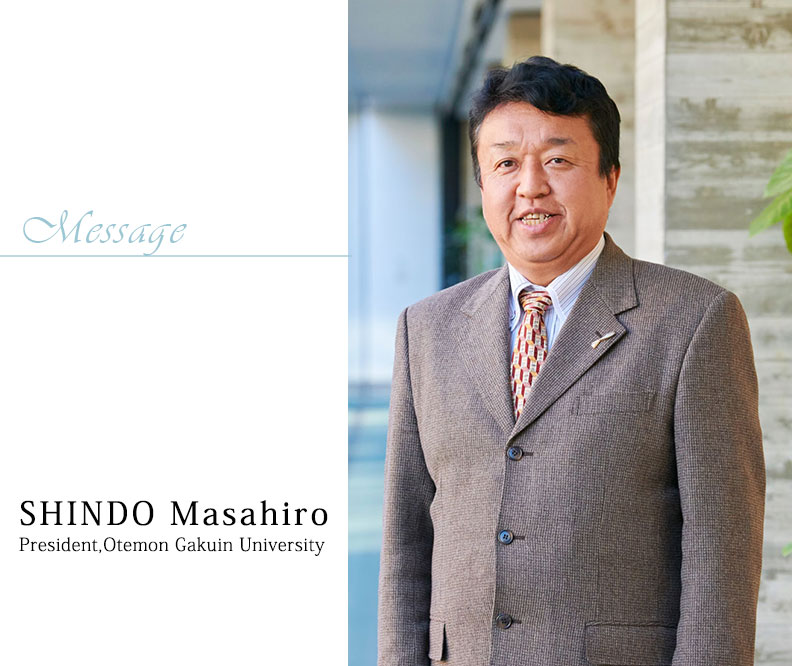 The "Ote-mon" in Otemon Gakuin University is the official name for the main gate of a castle. In the old days, the Osaka garrison of the Imperial Japanese Army was stationed in Osaka Castle. In 1888, it was restructured and transferred to the Fourth Division. But in the same year, the division commander Takashima Tomonosuke established the Osaka Kaikosha Elementary School, which is, the predecessor of the present Otemon Gakuin Elementary School. The history of Otemon Gakuin began in 1888.
By the way, a "mon (gate)" is truly a symbolic presence. It is positioned at some kind of a border, and you will find a different world once you pass through it. Moreover, not only the place but also the separated time can be compared to a gate. Entrance ceremonies, coming-of-age ceremonies, and graduation ceremonies are typical time gates.
Within the time you lived in this "Ote-mon" acting as a border, I'm sure there have been huge changes in your student lives as well. I hope they are changes that can be characterized with the word "growth". Of course, this "growth" can have different forms. However, there is just one thing that I would like to make our common understanding — this "growth" is something brought about by the independent learning of students. Of course, we the teaching staff will support this. And even after graduating from university, I hope you will continue to learn and grow in this society for many years to come.
Otemon Gakuin University's educational philosophy of "Independent Effort and contribution to Society " refers to this independent learning and also a strong connection to society that is obtainable from lifelong learning. In my role as president to realize these goals, I would like to present three watchwords.
Student First
Branding
Smiling
"Student First" does not mean a laissez-faire approach; it means "Independent Effort" and the supportive stance of the teaching staff. Furthermore, through the "branding" of the graduate school, university, and students themselves in every sense, I believe we can achieve a more effective and attractive, "Contribution to Society".
I think the fact that this populated "Ote-mon" is so full of smiles is another important force that supports the realization of these goals. To this end, as the president of the university, I bear in mind to always manage the university with "Smiling" as a theme. I hope everyone who goes through this gate will grow up independently, smile brightly, and continue learning for the rest of their lives. I will do my best to achieve this. Thank you very much.