Greetings from the President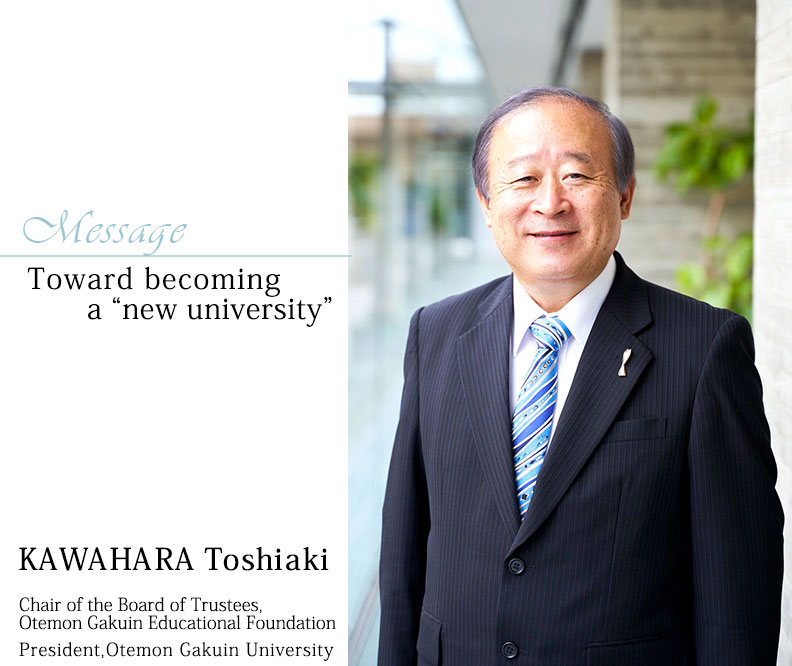 Otemon Gakuin University was founded in 1966.
The history of Otemon Gakuin dates back further to 1888, with the opening of the first private elementary school in western Japan, attached to Osaka Kaikosha. Many years since then we grew into a comprehensive educational network that extends from nursery school to graduate school.
All of our institutions, from nursery school to graduate school, aim to foster leaders of society with a focus on education of the mind, under the common educational principles of "Independence and Self-Reliance." In the context of today's globalized society, we endeavor to develop individuals who can contribute to the world.
Otemon Gakuin University is promoting various reforms in recent years. Applicant numbers, which have increased for six successive years since 2013, are a testament to our efforts. Preparations are also under way of a new campus scheduled to open in April 2019.
Far from being content with the status quo, however, we need to revisit our origins and ask ourselves: Who is the university for? The university is all for the students. I aspire to work with our faculty and administration staff to create a "new university." The role of universities today is to nurture students into full-fledged members of society and send them off to the real world. To this end, career education should be a pillar of academic instruction. At Otemon Gakuin University, this means basic educational programs must provide students with a solid foundation for proceeding to specialized programs. The teaching staff is responsible for drawing out the full potential of new students and enabling them to bloom, whether in their chosen career path or in graduate school.
Educational reforms are a means to fulfilling this responsibility. Our sights are set on becoming a new, attractive university and establishing a new educational structure before the opening of the new campus.