Institute of Liberal Arts
Greeting from Director, Institute of Liberal Arts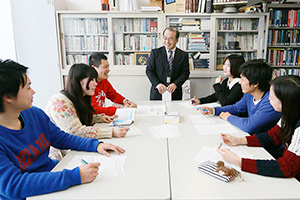 The aim of the Institute of Liberal Arts that was established in April 2013 is to reconstruct the common education carried out so far, from the viewpoint of liberal arts education, and to establish and practice a new Otemon style of all-round liberal arts education. Using the advantage of its position as an organization that is independent of each faculty, the Institute undertakes the role of forming a foundation for the university education with the nurturing of basic abilities and skills thought to be necessary regardless of faculty or course.
The basic policy for basic education at this University is to nurture three abilities the ability to learn, the ability to think and the ability to live. These correspond to three course groups of "basic courses," "liberal arts courses" and "career courses" and there is also an additional "general courses" group. These make up four course groups constituting the basic education.
One major characteristic of the basic education at this University is that there are many small-group seminar courses included to develop both individuality and the ability to cooperate. These nurture the skills necessary to cooperate with others to achieve things, in other words, the attitude of working at things independently and also the ability to act as part of a team. The liberal arts courses group includes "Freshman seminars" and "Liberal arts seminars" and the liberal arts courses also include "Open seminars," as a course that is an extension from the "Liberal arts seminars." The career courses include the arrangement of multiple lessons related to "Projects" and "Expressive communication."
In addition to the seminars in the faculties, these interdisciplinary small-group practical courses are implemented to deepen the mutual exchange among a variety of students, with approaches and values from beyond the students' own faculties and courses. The practical courses nurture the strength that students need to live true to themselves and we believe that they offer an important opportunity for students to become useful human resources for society. We believe that an important mission for the Institute of Liberal Arts and for the University is that we send people out into society who have the basic abilities necessary for study equipped with broad cultural education, so that they can be useful human resources for society.
We will continuously work at the improvement of education system, the contents of lessons and our educational abilities, in order for the Institute to sufficiently fulfill its role of forming the foundation for university education to nurture comprehensive human abilities and to produce human resources that will be useful for society.
Director Institute of Liberal Arts
Osamu Umemura