Overview of Graduate Schools
Graduate School in Economics
Graduate Course of Economics [Master of Economics, Doctor of Economics]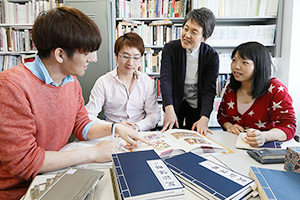 The goal of the Graduate School of Economics is to foster human resources capable of playing a leadership role in the economics of Japan which has an important international position and in the local communities. A faculty possessing wide-ranging knowledge and deep insight on the various fields of modern economics will provide instruction. The curriculum will develop an ability to think from a global perspective, a high level of specialty knowledge, and the ability to apply this knowledge in the real world. Human resources possessing these skills are expected to play an active role as researchers at universities and research centers, and in social activities. Those who have completed this program may also aspire to obtain licensing as a certified tax accountant.
Graduate School in Business Administration
Graduate Course of Business Administration [Master of Management, Doctor of Management]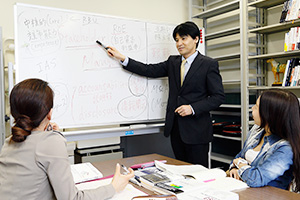 Students in the MBA program have the opportunity to gain expertise in a variety of fields including: business administration, accounting, management information, business psychology, marketing and entrepreneurship, among others. A high level of specialized knowledge and practical skills are cultivated while at the same time students are encouraged to be creative, flexible and forward-thinking. The program is intended to nurture future managers and specialists, as well as researchers and educators. By admitting contract researchers from private companies, industry-university cooperation is being fostered. The graduate school of business administration serves as a "place for knowledge exchange," where students and members of the local community can meet together. In addition, special seminars for company workers are offered throughout the academic year, providing further opportunities for graduate students to engage in dialogues with business people from a broad spectrum of business and industry.
Graduate School in Psychology
Graduate Course of Psychology [Master of Psychology]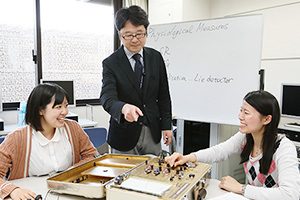 The Graduate School of Psychology possesses a broad range of fields and ample facilities to pursue research and practical work. There are three programs in Clinical Psychology, Life-Span Developmental and Life-Span Learning Psychology, and Social, Environmental, and Criminal Psychology. In either program, a high quality and high level of specialty education will be provided that can be applied in the real world. The professors are friendly and will support an ample learning process as academic advisors. Curriculums have been designed so that students can seek to obtain certification as clinical psychologists, clinical developmental psychologists, school psychologists.
Graduate School of Letters
Graduate Course in Sociology [Master of Sociology] , Graduate Course in Chinese Culture [Master of Arts] , Graduate Course in English [Master of Arts]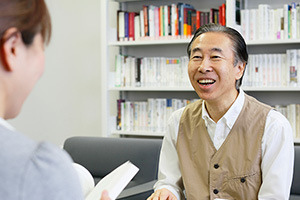 The Graduate Course in Sociology, while placing emphasis on a unique research style based on individual experiences, covers a broad-range of fields in sociology and cultivates the ability to make insights into the complex and fluctuating modern society of today. Students in the Graduate Course in Chinese Culture will choose a region in Asia, including China and Japan, and will conduct general research on the ideology, history, literature, and geography of the region of one's study. Students in the Graduate Course of English will conduct research on British and American literature and English studies, will cultivate a broad cultural perspective and a high level command of the English language and language information processing ability.