Faculty of Economics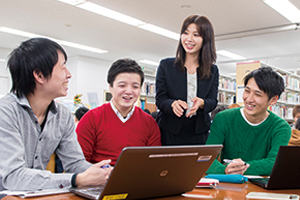 Learn systematically and in depth economics that can be used in the real world.
Achieve the career you want.
Economy is a mechanism for generating products and services necessary for human life and spreading and using them to create a flow of money. Economic movements bring about various effects and changes in our lives. The Faculty of Economics aims to postulate aspects related to the economy, and discover and verify the laws in order to make use of them in the real world. The curriculum of this faculty offers five courses that connect the respective fields with future career paths, as well as four programs aimed at further developing expertise. By combining them, students can learn economics systematically and in depth.
Faculty of Management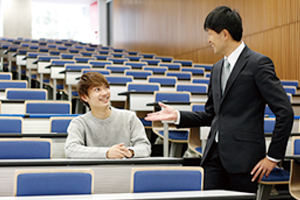 Companies and business management are studied from various perspectives, ranging from management and marketing theories to law and psychology.
The profits of a company depend on sales of products and services. To generate and maintain high profits, it is necessary to have the knowledge to effectively distribute and use management resources such as goods, people, money and information. Accordingly, the Faculty of Management adopts a "major" system that facilitates systematic study of wide-ranging fields including organizational management, accounting, the law related to business management, and marketing to provide attractive products, as well as the information technology and human psychology necessary in the business scene. In a total of six disciplines, which consist of three major subjects in each of the Department of Management and the Department of Marketing, students can deepen and widen their expertise.
Department of Management
Explore the diverse world of management from three fields
The Department of Management has the three major subjects of management, accounting and business law.
For the study of management, which involves a wide range of genres such as people, goods, money and information, students learn core theories in the three areas and develop the ability to apply them to analyze and solve real problems.
Department of Marketing
Examine the markets all over the world, as well as marketing, in three domains
The Department of Marketing has the three major subjects of marketing, management information and business psychology.
Students examine markets all over the world and marketing in these three domains, and learn core theories and the ability to apply them to analyze and solve real problems.
Faculty of Regional Development Studies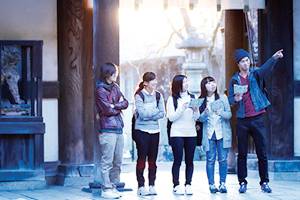 Aim to contribute to the "vitality" of local communities.
Cooperate with local people and organizations and work for various projects.
Students develop practical learning activities to help local communities grow and solve problems, such as undertaking field work in urban spaces, planning trips to visit World Heritage sites and making proposals for new goods using local specialties. Through these activities, they acquire knowledge and skills to cooperate with people and organizations, and cultivate the ability to work to solve local problems from various perspectives. The goal is to develop the next generation of leaders who can become rooted in a local community, create connections with people and organizations, link the local community with the world and generate "vitality" in the local community.
Faculty of Sociology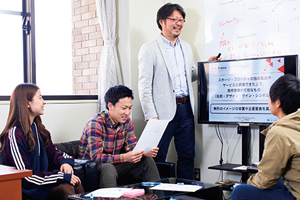 Any field related to daily life can be a research subject.
Analyze society from a flexible perspective according to your interest.
Sociology is a study that starts by paying attention to familiar issues. Sociological study may also include selecting as a subject, for example, a trend, or your relationship with others, understanding its background, recognizing it as a social phenomenon and analyzing it as a tendency. From such familiar events to big issues such as poverty and wealth gap problems, as well as politics, the subjects of sociology are wide ranging. The Faculty of Sociology offers five education programs that comprehensively cover all research fields. It is a feature of the programs that students can select research fields from each program according to their interests, and study them with longitudinal and cross-sectional approaches. They will gain a bold and flexible perspective and learn skills in observing, surveying, analyzing and examining human behavior.
Faculty of Psychology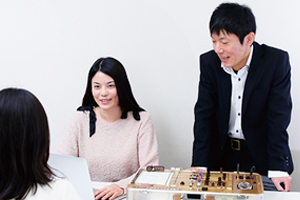 From business to human relationships,
learn psychology that can be used widely in society.
Psychology is the study of the mind and behavior of people, and can be applied to a variety of areas including crime prevention, as well as love and other human relationships, education, and marketing, to help establish a better society. The Faculty of Psychology offers four courses that cover these various academic disciplines of psychology. Students select the courses that interest them and pursue studies in the relevant areas of expertise. In parallel with the course study, they start "three practical programs" in their junior year to learn skills to make practical use of the expertise through interaction with the study in the four courses. In accord with their individual targets, students acquire psychology skills that can be used in every aspect of society.
Faculty of International Liberal Arts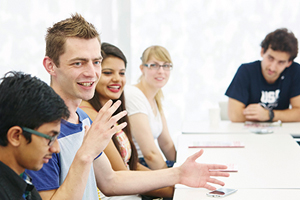 Here, students can study and grow into true global human resources who play an active role as a bridge between Japan and other countries.
In Japanese society, where globalization is being accelerated, there will in the near future be daily contact between various languages and cultures, as well as more and more occasions when English language skills are required as an international language. The Department of International Liberal Arts offers a short-term overseas study program to all students. This program provides students with opportunities to learn practical English skills and experience different cultures in order to develop as human resources who have a broader perspective and can play an active role in the global arena. In the Department of Global Japanese Studies, students enhance their Japanese language skills and learn communication and presentation abilities. They also study various unique Japanese cultures, ranging from the traditional to the cutting-edge, which are attracting global attention. The course helps them deepen their understanding of Japan from an international perspective and cultivate the ability to convey the appeal of the country to people of the world.
Department of International Liberal Arts
Learn "practical English skills" suited to your purpose.
This department offers a short-term overseas study program, as well as the three courses of global leadership, global career pathways and global communication, to learn professional English skills suitable for the career that they want to pursue.
Department of Global Japanese Studies
Learn the appeal of Japan and convey it to the world.
In this department, students develop their Japanese language skills and also deepen their understanding of Japanese culture from an international perspective through the three courses, Cool Japan studies, laughter studies and Japan studies.